ALL MAKES & MODELS!
Carolina Custom offers our Assault Guard Spray-In Bed Liner for all types of vehicles including commercial, fleet and personal vehicles. We can spray everything from truck and cargo van beds, box truck floors and ramps, or even RVs, ATVs, and golf carts. We've even sprayed practice equipment for the Carolina Panthers! Our Assault Guard Liner can even be tinted with a variety of colors to create out truly standout protection. Assault Guard is perfect to provide a tough-as-nails finish that will protect your vehicle, provide added traction, and offer easy clean-up with a pressure washer or sprayer!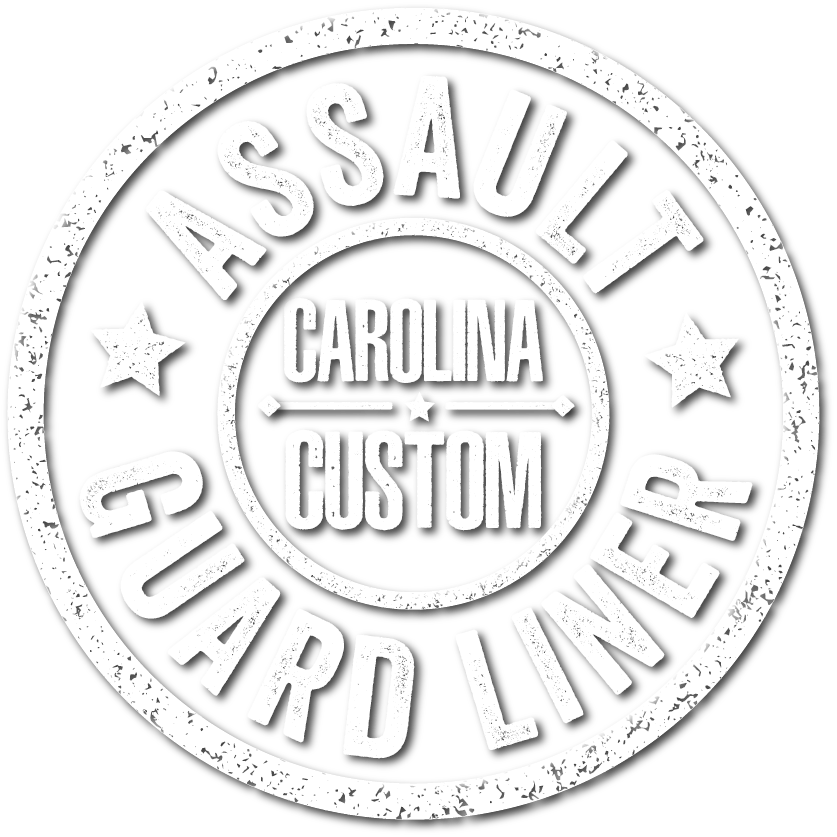 Spray-In Truck Bed Liner Pricing
Truck, Short Bed (up to 6 ft): $629 plus tax
Truck, Long Bed (over 6 ft): $679 plus tax
Compact Cargo Van: $799 plus tax
Cargo Van, 136 WB (bed only): $899 plus tax
Cargo Van, 159 WB (bed only): $949 plus tax

Interior Walls: Call for Estimate
Other Vehicles/Applications: Call for Estimate
Assault Guard Spray-In Bed Liner
Tough-As-Nails Durability
Have you ever seen a classic pickup with its bed rusting right off? It's a sad sight, and one that doesn't have to happen anymore. With our spray-in polyurethane bed liners, every surface, nook, and cranny of your truck bed is protected from impact, abrasion, chemicals, and rust. It makes your truck look even better while making it a higher-performance workhorse. We apply all of our spray in bed liners in house in our own on-premises paint booths.
The Smart Option
Drop-in bed liners leave gaps that collect moisture and allow rust to form despite the presence of the liner. Spray liners are the hands-down better option for eliminating all surface vulnerabilities. If you're looking for even more protection than a regular spray in bed liner can offer, our exclusive offerings include Assault Guard liners, as well as whole-vehicle coatings. We can even spray your interior cargo bay! When it comes to protecting your vehicle from the elements on any terrain, our spray-ins have you covered.
Spray-In Bed Liner FAQs:
HOW MUCH DO YOU CHARGE FOR SPRAY-IN BED LINER?
For most trucks it costs $629 to be installed. If your truck has a longer bed or a cargo bed the price is slightly higher. If you are interested in having the walls or entire cargo area of your vehicle sprayed, contact us for an official estimate.
DO YOU DO OVER RAIL OR UNDER RAIL?
We offer both! It's your choice and it's the same price.
ARE THERE ANY ADDITIONAL CHARGES?
In short, no. If your vehicle has any chemical residue such as oil-based stains that need to be removed as part of the prep process, there could be some costs associated with solvent pre-cleaning. The vehicle should be completely empty removing all materials, tools, toolboxes, garbage and debris, additional wheels, hitches, etc. or additional labor time could be added in there as well for cleaning.
HOW MANY HOURS DOES IT TAKE TO COMPLETE?
It takes between 6-8 hours. We can usually finish it one day, depending on when the vehicle is dropped off.
WILL I NEED TO WAIT BEFORE I ADD THINGS BACK TO THE TRUCK BED?
The Assault Guard Spray-In Bed Liner alleviate internally and is completely hard after one hour of installation. However, we do recommend waiting 24 hours before you put anything back into the truck bed.
CAN I SPRAY MY TRUCK BED IF IT IS IN ROUGH CONDITION?
A truck bed that is in rough condition is one of the most rewarding type of beds to spray since it will come out looking brand new again. The bed needs to have no rust and a solid metal surface. If there are existing cosmetic conditions on the truck bed such as scratches, fading, scuffs, etc. it will make no difference.
WHAT TYPE OF LINER DOES CAROLINA CUSTOM USE?
Our Assault Guard Bed Liner materials come from a manufacturer that has been in business for over 70 years. It has been designed to endure all weather conditions. It is water resistant to help protect the truck bed from rusting, and it's also U.V. resistant so the spray-in liner won't fade even after years of being in the sun.
Carolina Custom

20310 Chartwell Center Drive
Cornelius, NC 28031


Gastonia Chrysler Dodge Jeep Ram

2339 E Franklin Blvd
Gastonia, NC 28054-4726


Lake Norman Chrysler Dodge Jeep Ram

20700 Torrence Chapel Rd
Cornelius, NC 28031-6318

Visit us at: 20310 Chartwell Center Drive Cornelius, NC 28031